T WAS JULY 2, 1989. My husband and I were expecting our first child and the moment we had been waiting for arrived: I was in true labor. But after 11 hours of active labor, I did not seem to be progressing. The baby was crowning when the on-call physician decided that I might need a cesarean-section.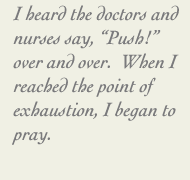 My husband and I both have medical backgrounds and felt that the baby could be delivered by forceps. At this time, we prayed even harder. In the meantime, two of my co-workers called the room for an update on my condition. I heard my husband say, "Mary, please pray for her. She may need to have a c-section."
Soon an anesthesiologist came to assess my progress. When it was time to sedate me, my husband requested that I have spinal anesthesia. I thought I had suffered enough and wanted to be awake to hear the baby cry. During this discussion, another obstetrician arrived to check me. "She can deliver naturally," he reported. "Let's take her to the delivery room." He confirmed that there was no need to order a c-section or spinal anesthesia. Now I had to prove that I could deliver naturally. I heard the doctors and nurses say, "Push!" over and over. When I reached the point of exhaustion, I began to pray.
Finally, not even realizing I pushed, I felt someone helping me. At that time, my husband whispered, "Mommy, it's a boy!" Then my son, Joseph, came into the world. It was a miracle because the last push was not my own. I was being helped by my prayers and my husband's prayers, and I also knew that my friend, Mary, was praying for me. As I was being wheeled out of the delivery room, I saw her. She told me she just came from the hospital chapel. I then knew—I was not alone.
Joyce Manuel
physical therapist
CHRISTUS St. Mary Hospital