t CHRISTUS Southwest Community Health Center, little miracles often happen, but some of them really tug at our heartstrings. Such is the case with Jose, a 21-year-old Hispanic man from El Salvador. Jose came to our clinic about a year ago complaining of asthma. He appeared somewhat overweight and immature for his age. During the course of documenting Jose's medical history, we discovered that as a child growing up in El Salvador, he had been involved in an accident that resulted in both testicles being crushed and subsequently removed. No one had ever spoken of the accident again, and his parents treated him as a useless person from then on.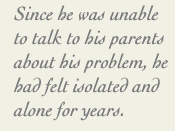 Jose had never been allowed to have an education or to learn a trade. He spent his days sitting idly around the house. After his initial visit to the clinic, we began to wonder what we could do for this young man who seemed doomed to life as a prepubescent male. We consulted an endocrinologist who volunteered at San Jose clinic and he agreed to evaluate Jose, develop a treatment plan for him and perform periodic check-ups. San Jose Clinic would take care of any follow-up testing. The treatment plan called for Jose to receive monthly injections of testosterone. He had no means of paying for these services, so we set up a plan where he would come to the clinic once a month to receive the injections and provide us with a small co-pay.
When Jose first started visiting the clinic, he was extremely shy. Since he was unable to talk to his parents about his problem, he had felt isolated and alone for years. He was reduced to tears as he explained his plight to the endocrinologist. Jose was stunned that someone had truly taken an interest in him and that there was hope for his psychological well-being and development.
We are now about eight months into Jose's treatment regimen and the results are astonishing. The change has been remarkable, not only in Jose's body, which is transforming into a handsome young man, but also in his emotional well-being. Every time Jose visits the clinic, he has a broad smile on his face and appears more confident and outgoing.
Jose has now started working with his uncle in landscaping. He has never been able to talk to his parents about his plight or even his treatment, but is able to share his hopes and fears with us from time-to-time. Our next goal is to help Jose get an education so that he can learn to read and write. With the help of the clinic's Family Roads program that, too, is attainable.
We feel rewarded for our efforts when we see Jose come to the clinic. We know that our CHRISTUS values of compassion and excellence are alive and well at CHRISTUS Southwest Community Health Center as we care for Our Lord Jesus Christ suffering in the poor and afflicted of every kind.
Sister Rosanne Popp, M.D.
Physician,
Southwest Community Health Center