eggy arrived at CHRISTUS Schumpert Hospital in Shreveport suffering from congestive heart failure and kidney failure. At 81 years of age, she was scheduled to begin dialysis the next day. However, her youngest son, Ronald, was called by the staff and told that Peggy would not be able to withstand the treatment. She was admitted to the Intensive Care Unit (ICU) and her children were called to come as soon as possible because her condition was quickly deteriorating.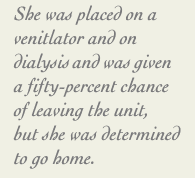 That evening, the doctors met with Peggy's family and explained that her heart had stopped beating, her kidneys had failed, she had suffered two grand mal seizures, her blood pressure was unstable and she was hemorrhaging. One doctor said that on a scale of 0 to 10, with 10 being the worst, Peggy was a 9.8.
The pastor from Peggy's church that she faithfully attended met with the family and doctors. He told the physicians that Peggy's family was a Christian family that believed in prayer, and they would be praying for her, as well as her family and physicians. The pastor asked one of the doctors what one thing was needed the most. The doctor thought for a moment and said that Peggy's blood pressure needed to become stable and then they could worry about the rest of her problems.
The pastor prayed specifically for God to stabilize Peggy's blood pressure. And, God answered that prayer. Early the next morning, the doctor returned to let the family and their pastor know that Peggy's blood pressure had stabilized. She was now taking dialysis and the hemorrhaging had stopped.
After a three-week stay in the ICU, Peggy beat the doctors' odds and was transferred to the acute care rehab unit at CHRISTUS Schumpert. She was placed on a ventilator and on dialysis and was given a 50 percent chance of leaving the unit, but she was determined to go home.
A few days later, Peggy's church had a special prayer time for her during the morning service. The church members specifically prayed for her lungs to become strong enough for her to be taken off the ventilator. By 8 a.m. the next day, the doctors were able to take Peggy off the ventilator.
However, the doctors still doubted that Peggy would pull through completely. She was having continuous fluid buildup in her lungs that hindered her breathing. They decided to insert chest tubes in each lung, but predicted that following the surgery, Peggy would need to be readmitted to the ICU and placed on a ventilator again. Once again, Peggy proved how strong she was and how good God is. By that evening, she was back in her room reading the newspaper! Soon after her lung procedure, the doctors were also able to remove her trachea tube.
Throughout her stay at CHRISTUS Schumpert and in acute care, doctors and nurses and technicians alike saw that Peggy truly was a miracle. The family knew all along that God was in control and that God is the great physician. They never lost faith that God could heal Peggy's body.
After 91 days in acute care, Peggy was able to go home. She never lost faith and neither did her family. They prayed, believed and received their miracle from the Lord. All the glory belongs to Him!
Ronald Day,
Homer, La.,
Son of patient