PPROXIMATELY 15 YEARS AGO, while working in the CHRISTUS St. Patrick Hospital Intensive Care Unit, I experienced a sad loss that resulted in a very spiritually moving event. During the time I worked on the unit we had an elderly woman by the name of Mrs. Jones who was in critical condition and happened to be in room 2307. Her husband, who was also very sick, was admitted to St. Patrick Hospital as well and was placed in a hospital room located directly one floor above his wife's room.
This loving couple had been married almost 50 years. Their only son, who was a physician living in the Baton Rouge, Louisiana area, came to Lake Charles to comfort his two very ill parents who were both hospitalized and in serious condition.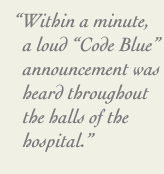 One day, Mrs. Jones suffered a cardiopulmonary arrest. All efforts to resuscitate her had failed and her doctor pronounced her dead with her son at her side. With tears streaming down his face, Dr. Jones told us that he would go upstairs to inform his father of his mother's death. Within a minute, a loud "Code Blue" announcement was heard throughout the halls of the hospital. The overhead speaker system informed medical professionals that the "Code Blue" was taking place on Unit 33, the nursing unit that was located directly above the ICCU Unit. The Code Blue team from ICCU immediately knew who it was. We rushed upstairs with tears already in our eyes only to find Dr. Jones doing CPR on his own father as huge tears poured down his face. Mr. Jones was in room 3320, the hospital room directly above the room that Mrs. Jones had just expired in.
With tears of sorrow and despair streaming down the son's face and the entire code blue team's faces, we proceeded to attempt all resuscitative measures but were unsuccessful. When we asked Dr Jones if his father arrested when given the news about his wife, he stated that he walked into his father's room only to find him pulseless and in cardiopulmonary arrest already.
With their deaths occurring within seconds of each other, we all knew that after almost 50 years together here on Earth they wanted to be together for eternity. We truly believe that when Mrs. Jones' soul was on its way up to heaven, she visited the room directly above hers to say goodbye, and her loving soul mate of many years went with her.
Laura Chenevert, RN
CHRISTUS St. Patrick Hospital Associate
Lake Charles, Louisiana