are and comfort at the end of life are critical issues at CHRISTUS Hospital–St. Elizabeth. We offer a patient at the end of his or her life and their family the opportunity to have a "gathering." During this time, the participating family members share with the patient memories and feelings they have for that person. Often special music is played and prayers and scriptures are read. The informal ceremony is individualized to each patient and family's needs, and has proven to be an extremely therapeutic and healing process for both the patient and their loved ones.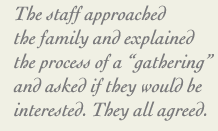 Over the Christmas holidays, a gentleman was in the last stages of his life. His family was at the bedside day and night, wanting to share his last days. The staff approached the family and explained the process of a "gathering" and asked if they would be interested. They all agreed.
Approximately 12 family members participated, and 10 of them shared their memories with the patient.
Sister Barbara and the family member read special scriptures and, although the patient was unresponsive, tears ran down his cheeks while his family shared their loving thoughts with him. He passed away later with his family at his side.
His family later thanked the staff for suggesting the gathering and reported how meaningful they found it.
Empathy and positive regard characterize the genuine openness inspired by these moments. They create a meaningful, individualized, deeply profound and memorable experience.
Candice Swain, RN
CHRISTUS St. Elizabeth Hospital