REANNA SPIVY HAS NEEDED a few more miracles than most in her young life. That's because the cheerful Bossier City, La., eighth-grader was severely burned in a crib fire at the age of 2 1/2 months.
The first miracle occurred after several months of hospitalization and the amputation of the lower parts of both her legs. She was placed in the foster home of Allen and Elaine Spivy, who adopted her four years later.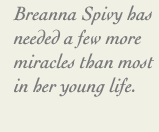 Leg prosthesis gave Breanna another miracle—the ability to walk and even run for several years. A patient in the Kids Clinic at CHRISTUS Schumpert, she won medals in the Louisiana Gumbo Games, a track and field competition for physically handicapped children. She made the pep squad at school. But as she grew, the tissue on her left stump became inadequate to allow her to wear a prosthesis like the one on her stronger right leg. When she would attempt to wear the prosthesis, the tissue would break down. For more than a year, she had to resort to a wheelchair to get around.
In 2001 Breanna got her next miracle when Holly Casey, M.D., and Simeon Wall Jr., M.D., performed an extremely rare microvascular surgery at CHRISTUS Schumpert to enable her to once again wear a leg prosthesis.
As usual, Breanna landed on her feet both metaphorically and literally. Her legs allowed her to race to a second-place finish in both the 60-meter and 100-meter Gumbo Games races, and she also picked up first-place ribbons in the shot put and discus throw to qualify for state competition.
Sally Croom
public relations director
CHRISTUS Schumpert Health System