IX YEARS AGO, I rarely thought about organ donation and transplants. However, I am alive today because a stranger signed an organ donor card.

Here is my story. Several years ago, I was diagnosed with colongitis and biliary cirrhosis, an inflammation of the liver. I was referred for more medical tests. It was confirmed I had chronic ulcerative colitis. It was then I learned a liver transplant was probably in my future.

Knowing little about transplants, I was apprehensive. I came home feeling better physically, but with a lot to think about. For five more years, I managed to cope with my illness. Too sick to work, I retired from my job as a trust officer at a bank and found pleasure in gardening and needlework. I took classes and researched my family tree.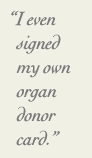 Then one day my doctor said I would not have another five years without a liver transplant. I wanted some guarantees. How long would I live after a transplant? What quality of life would I have? I even thought I could avoid a transplant altogether by taking care of myself.

I learned all I could by reading and talking to other transplant patients. I found out that survival rates were good and about 50,000 people benefit from transplants each year. When it became necessary for me to have a transplant and a suitable donor was found, I even signed my own organ donor card when I was admitted to the hospital. Today, my new liver is functioning well, and my doctors say I have an 85 percent chance of leading a full and healthy life.

It hurts me to know that someone died so I could live. I've often thought about what I would say to the donor's family. There are no words to express what such an unselfish gift at such a sorrowful time meant to my family and me. I hope I can change the life of another person one day by having signed an organ donor card.

Jean Head Hall
volunteer
CHRISTUS St. Michael Health System
Texarkana, Texas