OME OF 23-YEAR-OLD accident victim Courtney Graff's angels had rotors instead of wings. The young woman is convinced she would not be alive today if not for the miraculous medical intervention of CHRISTUS Schumpert's Life Air Rescue helicopter crew. Courtney was 16 at the time and had just received her driver's license when the car she was driving during an outing with friends missed a curve and landed in a meadow. Courtney was trapped in the car, suffering massive injuries to her head, scalp and face.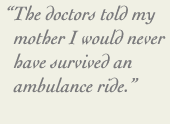 Miraculously, the entire flight crew happened to already be assembled at the flight pad at CHRISTUS Schumpert St. Mary Place. They had just been waved off an earlier accident across town where the victim, fortunately, walked away without injury. When the call for Courtney came in, they were able to reach the scene in less than four minutes.
That day, Courtney's parents were driving near the accident scene on their way home when they had to pull over for an ambulance racing by.
Courtney's mother felt a shiver and prayed a silent prayer for the victim in need of medical care.
Sharon Hornbuckle, a trauma nurse who happened to live in the neighborhood next to the accident scene, called 911 and ran barefoot through the field to help stabilize Courtney while emergency workers waited for the helicopter. Courtney quit breathing twice at the scene. Life Air Nurse Pam Anderson and Paramedic Wesley Roan say she was literally drowning in her own blood when they reached her. She was very near death. It was only a short flight to the hospital, but the two medical crew members knew they needed help to keep Courtney alive even those few minutes. Fred Johnson, a fireman and paramedic from the local fire department, was at the scene and was recruited to ride to the hospital to help with Courtney on the trip. That decision was key to her survival.
Miraculously, Courtney not only made it to the hospital alive, but after three weeks in a coma and 75 days in the hospital, she was able to enter rehab—the start of her long journey back to a normal life.
Seven years later, she reached another milestone—this time, walking across a stage to receive her college diploma. She invited the angels who helped her earlier to watch her receive it. "If not for you," she said on the invitation, "I wouldn't be alive, much less about to receive my college degree."
The medical experts agree that a coming together of miracles saved Courtney's life: the availability of the helicopter and crew, the knowledge and skill of the first responders at the scene, the availability of the extra hands in the helicopter, and the silent prayers of her mother.
"The doctors told my mother I would never have survived an ambulance ride," Courtney recalls. "This was truly a case where a helicopter made a difference."
Sally Croom
public relations director
CHRISTUS Schumpert Health System