y husband and I decided we needed to get in shape before taking a cruise so he bought an exercise bench and we began doing sit-ups. The first time I used the bench, it was obvious I was out of shape because my abdomen hurt. After a few days of soreness, I decided to try again. This time, I felt a sharp pain after only a few sit-ups, so I stopped. An hour later, I was in excruciating pain that caused me to feel faint and nauseated. My husband offered to take me to the hospital, but I refused, knowing that there was not much that could be done about a strained muscle.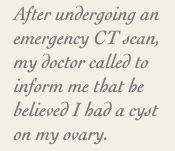 I felt better the next morning, but was still extremely sore. The next day, I noticed my abdomen was swollen so I called my doctor and was asked to come in immediately. After undergoing an emergency CT scan, my doctor called to inform me that he believed I had a cyst on my ovary which had likely partially ruptured and that the pain and swelling would eventually subside.
A short while later, he called again to say the radiologist had reviewed my x-ray in more detail and wanted me to come back in for a second exam immediately. The radiologist had noticed a mass in my abdominal wall and suspected it was a tumor. The doctor said that if the mass were merely a bruise resulting from having torn a muscle, I would show signs of external bruising, as well, which was not apparent.
I was scheduled to see a surgeon the next day for a second opinion. Given my family's history of cancer, my doctor thought it best to operate and perform a biopsy as soon as possible. This occurred on a Friday and surgery was scheduled for Monday. I cannot tell you the fear and anxiety I experienced over that weekend. At 44, I am now a wife, mother and grandmother. I have a wonderful life and with many things left to do. It was almost unbearable to see the worry on my family's faces. I prayed a lot and I knew everyone else was doing the same.
On Monday, I headed to CHRISTUS St. Frances Cabrini Hospital. I went through admitting and was then taken to my room where the nurses and anesthesiology team prepared me for surgery. They worked so quickly that I didn't have time to worry. With my IV in and medical history completed, it was time to be taken to the surgical holding area.
Once there, my surgeon arrived and said, "Let's take one more look here. He glanced at my abdomen and his eyes grew bigger. "There's a bruise!" he said in a surprised tone of voice. I looked down and there was a small, greenish-purple spot on my lower abdomen. It had not been there the night before and I didn't remember seeing it that morning. I asked if we could cancel the surgery and the surgeon agreed. He scheduled me for a follow-up CT scan in two weeks.
I dressed, went to lunch with my husband, and was back at work by 2 p.m.! The bruise continually got bigger and darker. Every time I looked at it, I knew it was proof that there is tremendous power in prayer! The appearance of that bruise was a true miracle moment for me!
Debbie Arnold
Vice president, Human Resources
CHRISTUS Medical Group,
Alexandria, La.