guess there is always a danger that I will forget that miracles occur daily right under my nose. I have become so used to them that I forget to notice. However, every once in a while, something happens to shame me out of my complacency. One night, like many others in the Labor & Delivery unit, a couple stepped off the elevator. A man was supporting the mother-to-be as she walked slowly, bent over in pain every few steps along the way.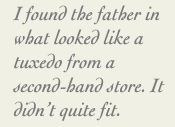 She was obviously in active labor and we moved quickly to get her to bed for the exam that proved delivery was imminent. The woman had no doctor. She had been traveling through town on the back of her boyfriend's motorcycle. She was unkempt with clothes slightly soiled-looking, dirty hair that was now stuck to her forehead with sweat from the overhead lights and tattoos that decorated her body.
Her boyfriend was silent for the most part. He held his girlfriend's hand and kept a crumpled paper bag between his feet. His hair was long and looked as if it hadn't been washed in a few days. He wore a black t-shirt that revealed colorful tattoos on his arms. He had a beard and while his eyes were soft in the way he looked at his girlfriend, I would have to admit that I would have avoided them had I seen them on the street.
We moved quickly around the room, doing all the necessary things, asking all the right questions, talking to each other in our own language until it was time for delivery. The decision was made to go to the delivery room and we quickly got clothes for the father to change into while we moved the patient to the delivery room.
I went to the patient's room to get the father, expecting to find him in the hospital issue clothes I had left to wear into the delivery room. Instead, I found him in what looked like a tuxedo from a second-hand store. It didn't quite fit. The sleeves were too short and the pants were a little tight and it needed ironing. I was surprised, but I think I recall having asking him where he'd gotten it. He told me he'd had it in the bag he was carrying. He said he wanted to make a good impression when the baby saw him for the first time.
I didn't know what to say, but I was touched. We hurried to the delivery area. However, the baby had already arrived. We brought the man's baby to him and at that moment, he looked like every other proud father. His baby was a little miracle and he was simply in awe of what he had created. The tattoos didn't matter to the baby. The baby looked into his father's eyes and saw love in them. It was a reminder to me to not be caught up in superficial appearances. It reminded me that every baby is a miracle. It reminded me that I have the best job in the world.
Sandra L. Duplechin, R.N.
Labor & Delivery staff nurse
CHRISTUS St. Joseph's Hospital