t was the week before Christmas and Carolyn Belton was sitting at the reception desk in Administration at CHRISTUS Schumpert St. Mary Place when a woman walked in with a sad story. She explained that her baby had been in the hospital and she was staying in a hotel, but she had run out of gas and could not afford food for herself or her family. She was waiting for family to wire money from Texas, she said, but the money had not arrived and her kids were hungry. Carolyn took the problem to Sister Rose Marie McDermott, who provided a cafeteria voucher for the woman.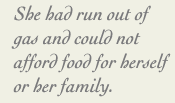 Accompanying the woman to the cafeteria, Carolyn watched her gather several items. But when they got to the cashier, the woman had overspent the voucher by $4. Carolyn immediately opened her own wallet and handed over the difference. The woman thanked her. "My kids can eat now," she said.
When Carolyn returned to administration, Sister Rose tried to reimburse her the $4 she had spent on the woman, but Carolyn refused. "I saw it as a blessing," she explained. "God has blessed me to give from my heart."
Little did she know that God's blessing might extend a little further. You see, Carolyn had a little problem of her own. She was having car trouble and needed about $500 to have it fixed. She didn't know where she would get the money, until her good deed was rewarded just a few days after the encounter with the woman in the cafeteria. Carolyn and her husband were unexpectedly gifted with $500.
"God gives us what we truly need," Carolyn said. "Sometimes He blesses you in strange ways."
Carolyn Belton
Data Analyst Trainer/ One Staff Assistant
CHRISTUS Schumpert Health System