n the summer of 2002, I packed what little belongings I could, along with my two children ages five and two, into an old Chevy Blazer that would take us back to my mother's home in Corpus Christi. I was in a very unhealthy relationship and needed to recollect my life.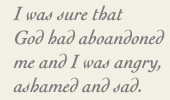 I returned home to my family and my mother enrolled me in a program at church. I was numb to the world and oblivious to life, although I attended each class. One weekend, all the participants went to a weekend retreat. I was so broken- my body, heart and soul. I was sure that God had abandoned me and I was angry, ashamed and sad. On the morning we were to leave the retreat, I walked alone to a garden on the grounds. Somehow, I was redirected to another path. It was a steep, narrow path with brush all around. I heard animal noises and a voice that told me to keep walking.
I ended up at the edge of the embankment and stood there silently and so afraid that a wild animal might pop out somewhere. I knew I wasn't in a safe place, yet I stayed until I heard the voice tell me to go back. I walked back up this path and ended up at the entrance of the garden I was initially planning to visit.
I saw a sign that said, "Prayer Garden." I walked in and stood towards the edge of a balcony in the garden. I began to weep and struggled to speak. I called out to God, asking Him why he had abandoned me. The pain was unbearable and just when I thought I would collapse from sheer anguish, a cold breeze blew through the garden. The voice returned and said, "I sent you to the other path so you could see how life is for us. It is filled with distraction, fear and isolation, but you kept your eyes on the path. That is what I ask of you. No matter what happens, keep your eyes on me. When you want to see me, you'll find me everywhere. I am the air, the trees, the water, the sky and even in this breeze. When you die, then you will see me."
I held my head in my hands and cried. "Thank you, thank you," I whispered back. The cold breeze came again and directed me to the entrance of the garden. A small yellow butterfly flew around me and out of the garden. When I turned around, the cold breeze was gone.
I slowly walked back to the cabins at the retreat center and went home that day with a changed heart. We all suffer and sometimes, the suffering is great. We may doubt that there is anyone out there taking care of us. Let it be known that we are not alone. God does not abandon us; sometimes, we just need to take a different path to find Him.
Marisa Salinas
CHRISTUS Homecare and Hospice