HE DAY BEGAN as any other day. A 19-year-old mom-to-be walked onto the unit in early labor. The mother was not ready to deliver, being only 32 weeks into her pregnancy. The staff began to assess mom and baby, and determined the mother was becoming ill with an elevated blood pressure and abnormal lab values.

At that time, her doctor determined that she was too ill to continue the pregnancy and that the baby's chances for survival would increase if he was delivered now, rather than continuing to develop in utero. A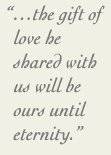 Cesarean section was ordered, and the doctors and staff quickly assembled all the necessary equipment.
The family was concerned and anxious for both mom and baby, but breathed a sigh of relief when news of a successful Cesarean section came; however, the baby weighed in at only 2 pounds and 13 ounces. The mother named him Luke.

Luke was CHRISTUS St. Mary Hospital's first NICU baby. The entire staff fell in love with him at first sight. He was showered with love and prayers each day, and was such a "champ" through the procedures needed for his care. Luke would seem to take two steps forward and one step back, but he was finally discharged and went home for the first time at 6 weeks of age.

Luke's grandmother was no stranger to CHRISTUS St. Mary Hospital. She had been working with the Children's Miracle Network for many years, raising funds for seriously ill and injured children. All at once, those years of hard work on behalf of others took on a new meaning. Now her own family was in need of the support and medical attention she so strongly advocated through the years.
Luke became our shining star for the Children's Miracle Network Telethon. He was on television, where his story helped many in the community understand what the much-needed dollars raised from the event can do. He smiled for the cameras and won many new hearts to his list of admirers.

Sadly, on June 4, 2002, Luke's brief life ended. He died in his sleep at his home, leaving many broken hearts behind. He will be missed daily, but the gift of love he shared with us will be ours until eternity.

Vicki Handel, R.N.
director
Women's Services
CHRISTUS St. Mary Hospital
Port Arthur, Texas