ERA BOYLE HAS A MISSION. She wants to make sure that every newborn baby at CHRISTUS St. Elizabeth Hospital has a nice warm cap. So in the last five years, the 91-year-old has knitted over 1,000 caps and donated them to the nursery and neonatal ICU at the hospital. Each cap is five inches around and five inches high, with a pom-pom the size of a gumball on top. Her hat making is not an expensive undertaking, as she can make 15 from a $3 ball of yarn. She can produce three hats a day, well below the demand at the hospital.

But what began for Vera as a labor of love for bald-headed babies became her biggest worry. "What are my poor babies going to wear when I can't make hats anymore?"

She tried to recruit friends from church, family members and acquaintances from the hospital, but no one seemed interested in taking up her mission.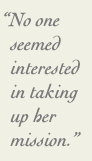 Her dilemma was brought to the attention of administrators at the hospital who came to her rescue. They asked their director of Marketing and Public Relations to publicize Vera's plight. The local newspaper ran a feature article, complete with Vera's picture. And the phone began to ring.

Dozens of people called, each eager to learn to knit newborn baby caps. Now, Vera doesn't knit alone. In her home, she teaches willing students, ranging in age from nine to 91, to knit each day. She shares her cap pattern and provides knitting needles for those who want to work at home. She is happy knowing that 'her babies' will have warm heads for years to come.

This could have been the whole story. Lady knits caps. Lady fears she won't have a successor. Lady gets publicity. Lady teaches others to knit. Newborns will continue to receive caps.

But, the real 'miracle' is in the story of those who have found joy by knitting for Vera and the babies—a severely depressed woman with no purpose in life, a widow who stays at home to care for her bedridden mother, four home-schooled sisters. The list goes on and on. Each has found inner comfort and strength in their newfound mission.

When she sought out others to help knit caps for newborns, Vera thought only of helping the infants. Little did she know her quiet endeavor would become a miracle in the lives of those who joined her. They knit for the babies. In return, their hearts are filled with the warmth that comes from loving, caring and giving.
Dorothy Yentzen
assistant administrator
CHRISTUS St. Elizabeth Hospital
Beaumont, Texas