ue was admitted to CHRISTUS St. Joseph's Home after having been diagnosed with Lou Gehrig's disease. She quickly stole everyone's hearts with her zest for life and determination to make the best of each and every day.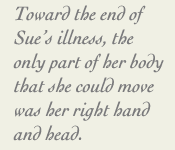 When anyone would ask how she was doing, they would always get the same selfless, enthusiastic reply: "I am fine! How are you?" Her family soon became as much a part of our lives as Sue. Her husband, mother, brother, daughter, son and granddaughter visited her as often as they could and lovingly cared for many of her personal needs.
Sue's husband was her most frequent visitor. While at times he would stop by early in the morning, he would always come back again to visit in the afternoon.
The Housekeeping, Maintenance, Dietary, Laundry, Physical Therapy and nursing staffs all become friends with Sue. She would call each of us by name, always extending a big "thank you" for even the smallest things that we would do for her.
Toward the end of Sue's illness, the only part of her body that she could move was her right hand and head. Our nurse aides worked tirelessly to keep Sue as comfortable as possible at all times. They would carefully position her call light and the television remote control near her right hand so she could reach them with ease.
That summer, Sue's brother from Pennsylvania decided to travel to Monroe to visit his family. Sue's husband mentioned that he was hoping to find a way to transport Sue's wheelchair in order to take her home for one day so that her entire family could be with her. We wanted to help, so we were able to arrange for the local ambulance service to provide a courtesy transport for Sue. Sue's family was extremely grateful.
Only two weeks later, Sue began to lose her long battle with illness. One Sunday, even though I wasn't scheduled to go in, I decided to stop by CHRISTUS St. Joseph's Home to check on something work-related. Another nurse urged me to stop by and visit with Sue because she said her condition was rapidly deteriorating.
As I entered Sue's room, I could feel the love of God surround me. Sue's daughter and husband were close at her side. I immediately asked Sue if she wanted to be transferred to a hospital and she nodded her head to say "no." Her husband explained that everyone felt Sue got the best care at CHRISTUS St. Joseph's Home. I held Sue's hand to comfort her and asked her family if they would like me to stay. I knew the end was near. "Would you?" they asked hopefully. The expression in Sue's eyes clearly acknowledged her consent.
One by one, staff stopped in to visit Sue and to let her know in their own way how much they cared for her.
Shortly before Sue's death, her husband and daughter reminded her how much she was loved. They told her they were going to be fine and that it was OK for her to let go. I said, "…to be absent from the body is to be present with the Lord" and assured Sue that she was going to have a wonderful, new beginning. Soon after, her mother and brother entered the room. Sue's prayer to die with dignity surrounded by her family was answered.
Sue is greatly missed by the staff at CHRISTUS St. Joseph's Home and brought joy to us all. We are blessed to have known Sue and her family and are grateful that she was placed in our care.
Debbie Miller, Licensed Practical Nurse
CHRISTUS St. Joseph's Home