n April 15, 2003, CHRISTUS St. Joseph Hospital in Houston received a patient, a victim of a robbery and assault, who was unconscious with severe head injuries. The man was admitted to the hospital's Intensive Care Unit (ICU) for observation and monitoring, but his condition did not improve and he remained unable to communicate. An acquaintance of the patient told us the man's name and said that he had been working in Houston as an undocumented laborer from Mexico.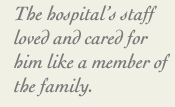 The patient was in our care until Jan. 14, 2004, when he passed away. The hospital's staff loved and cared for him like a member of the family. In fact, we had become his family for the past nine months. Upon his death at approximately 5:30 a.m. that day, the charge nurse notified Mike Sullivan, vice president of Mission at CHRISTUS St. Joseph Hospital, just as he had requested. Mike immediately came to the hospital and informed the staff that he would contact a funeral home to make the necessary arrangements, as the hospital had been unsuccessful in identifying or locating any immediate family or next-of-kin.
Mike told the staff that the man was entitled to and would receive a proper burial because "no one should die unloved or without mourning." When asked about funeral expenses, Mike said we had become the patient's family, and that family takes care of family. He contacted a funeral home to make arrangements and when the funeral home representative arrived to receive the patient's remains, Mike signed the necessary release forms, acknowledging that he would personally assume full responsibility for all funeral costs.
The funeral was held at a local cemetery. The man's body was committed to the earth and his soul, to God. On Jan. 18, an obituary notice appeared in the Houston Chronicle to honor the man's life and the next day, a memorial service was held at CHRISTUS St. Joseph Hospital for all Associates to attend.
When the funeral home representative later came to CHRISTUS St. Joseph Hospital, he expressed his admiration for Mike and his genuine spirit of caring. We learned that Mike had purchased a suit for the man to be buried in, as well as a casket, cemetery plot and monument for his burial.
In all of our careers, we have never seen such a commitment to the spirit of caring and generosity for another individual in need as that which Mike Sullivan demonstrated and taught us. He is truly a "good samaritan" and exemplifies the Mission of CHRISTUS Health.
We are all very fortunate to have Mike with us. Not only does he continually teach us what our Mission calls us to be, but he consistently demonstrates the Mission in his daily actions and care for others.
Mike Sullivan represents the very best with respect to integrity, character and leadership at CHRISTUS St. Joseph Hospital.
CHRISTUS St. Joseph Hospital Associates