EW YEAR'S EVE is a time when many families and friends gather to reflect on days past and to look forward to another year.

One family in particular will most likely never forget their New Year's holiday of several years ago and the kindness extended to them by former CHRISTUS St. Joseph's Health System Associate John McLaughlin.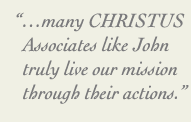 On New Year's Eve, the Self family from Missouri was en route to South Texas, where they hoped to enjoy a few weeks of warmer weather. However, their trip came to an abrupt halt when they were involved in an auto accident just outside Paris, Texas. Thankfully, the Selfs sustained only minor injuries, but their travel trailer was completely destroyed in the collision, and they were unable to drive their vehicle, which was badly in need of repair. Much to their dismay, Mr. and Mrs. Self soon realized they were stranded in an unfamiliar city—far away from the warmth and comfort of home, where family and friends were busy celebrating the holidays.

That's when John, a radiology technologist at CHRISTUS St. Joseph's Hospital, offered to assist the couple once his shift ended for the evening. Despite the fact that John, his wife and two sons had long-awaited plans for New Year's Eve, John truly lived up to the CHRISTUS mission by putting the Selfs first in their time of need.

Upon completing his shift, John drove the couple to their wrecked trailer to collect their personal items. He went the extra mile to make sure they were comfortably settled for the night at the CHRISTUS St. Joseph's guest house, which is located on the campus of CHRISTUS St. Joseph's Medical Center South. The guest house is typically used by hospital outpatients and their families who live out of town and require overnight accommodations while receiving care at CHRISTUS St. Joseph's. And, seeing that the couple was badly in need of a meal, he ordered a take-out dinner for them and delivered it to the guest house.

Within the next day or two, family members arrived in Paris with another vehicle for the Selfs. Thankfully, they were able to continue on their journey south, grateful to have found a new friend along the way.

This story is an excellent example of how many CHRISTUS Associates like John truly live our Mission through their actions—both at work and in their personal lives.
Derald Bulls
director
Marketing and Public Relations
CHRISTUS St. Joseph's Health System
Paris, Texas