ROUND NOON ON OCT. 2, 2002, a phone call was placed to CHRISTUS St. Mary Hospital CEO Alice Baker by the Port Arthur fire chief, informing her of the latest coordinates and potential path of Hurricane Lili. He provided details of the fire and police departments' evacuation plans and proceeded to explain the risks associated with "riding out" a direct hit from Lili, which was a dangerous, category-five storm.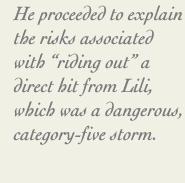 A critical decision was made to initiate a complete evacuation of the hospital's patients and to close the facility in the wake of the hurricane, a feat that had never occurred in the history of CHRISTUS St. Mary Hospital. With evacuation efforts in full swing, Alice made rounds later that afternoon. She found a full house of patients and a frantic skeleton crew of nurses attempting what appeared to be impossible. After making a thoughtful and prayerful assessment, Alice called a meeting with the hospital's management team to convey her concerns.
What we saw in the eyes of our leader that day was a magical blend of fear, frustration, determination and commitment to accomplish a daunting task. At once, her message inspired a team of Associates who collectively portrayed the true meaning of stewardship and dedication. This team consisted of virtually every department in the hospital, including both clinical and nonclinical staff, working as a team with one common goal.
Before nightfall, more than 65 CHRISTUS St. Mary patients needed to be safely dressed, discharged, transported, or placed on tour buses, helicopters or a convoy of EMS vehicles for what became a countywide evacuation. After three extremely chaotic hours, the last patient was transported via helicopter to a safe destination, and CHRISTUS St. Mary locked its doors. Miracle or not, the efforts of this team exemplified true CHRISTUS spirit and the awesome capabilities of many Associates working as one.
Keith Watkins
CHRISTUS St. Mary Hospital