F YOU THINK DOCTORS AND NURSES are the only hospital employees who save lives, meet CHRISTUS Schumpert's hero trio: James Hampton, Joe Laws and Mary Eason. The three Associates work in Nutritional Services at CHRISTUS Schumpert St. Mary Place, and their heroic, lifesaving work began early one morning last June. That's when James, who manages the food stockroom, noticed that his co-worker Ira West was nowhere to be seen. James grew concerned because he could always set his watch by Ira, who consistently arrived at work no later than 5:45 a.m.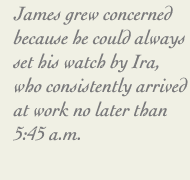 Joe Laws usually greeted Ira prior to his clock-in time of 6 a.m. as he passed through the kitchen to get coffee. By 6:15 a.m. that day, James and Joe had already decided to call Ira's unusual absence to the attention of Mary Eason, who's worked for more than 20 years in Nutritional Services and is well-familiar with Ira's daily routine. Mary immediately called Ira's wife, who confirmed that he had left home as usual around 5 a.m. for the 45-minute walk to work.
Upon hearing this, the heroes sprung into action. With Mary at the wheel, they took off—retracing Ira's route. A few blocks from his home, they found Ira. He had passed out, fallen and hit his head. Somehow, he had managed to get up and walk two more blocks toward to the hospital before he collapsed again alongside the street. His co-workers found him a half-mile from the hospital, sitting just off the curb, head down, looking white as a sheet and complaining of nausea. He said he'd been praying somebody would find him.
At the hospital, doctors diagnosed a heart rhythm problem. Once a pacemaker was installed, Ira was back to his old self—and regular as clockwork once again.
Sally Croom
public relations director
CHRISTUS Schumpert Health System