URING ONE NIGHT SHIFT on the CHRISTUS St. Joseph's Intensive Care Unit, there was a patient who was doing poorly due to bleeding as the result of a cardiac procedure. His case was very complex and required the care of two nurses throughout most of the shift.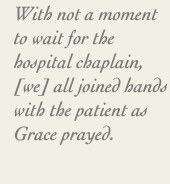 One nurse, Lucy Offut, was assigned to him, but a co-worker, Sue Wingard, spent most of the night helping Lucy while caring for her own designated patients. Several other Associates, including Grace Swaim, Kara Wright, Janet Stone and Laura Hayes, were also very helpful. They maintained a positive attitude and were supportive of the patient's family—as well as each other—throughout the night. Through the most stressful times, they kept a positive attitude, demonstrating exemplary teamwork.
Early the next morning, the patient had to be rushed back to surgery. With not a moment to wait for the hospital chaplain, Sue, Grace, Arzella, Kara, Lucy, Janet, myself and the patient's daughter all joined hands with the patient as Grace prayed. No one asked or prompted these Associates to pray with the patient. They simply responded to need without question or hesitation. I was honored to be a participant.
Jeff Nichols
RN House Supervisor
CHRISTUS St. Joseph's Health System