FIRST WORKED AT CHRISTUS St. Patrick Hospital in the spring of 1989. I came to Louisiana as a traveling nurse, and had the good fortune (really, I believe it was God's will) to be placed among a special group of people there.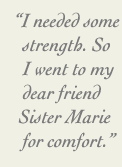 Shortly after my arrivaI, encountered the most wonderful nurse I've ever had the pleasure of meeting during my nursing career: Sister Marie Goretti. Very quickly, I realized that if there ever were a true angel on earth, she was before me in the presence of Sister Marie. She was the kindest, most patient, and most compassionate nurse I had ever encountered.
After several travel assignments around the states, I returned to CHRISTUS St. Patrick as a full time staff nurse in the fall of 1991. I met my husband and we married in 1993. In 1995, my husband's horse threw him and he sustained a lumbar spine fracture. By God's good grace, he had no paralysis, and his neurosurgeon told us he would need surgical intervention.
On the day my husband was to have surgery, I left him at the OR holding area and was absolutely devastated. I realized what an extensive surgery was about to be performed, and was simply distraught. I needed some strength. So, I went to my dear friend Sister Marie for comfort. However, at the convent I was told that Sister Marie wasn't feeling very well, and was resting. I sat in the chapel for two or three hours, just praying for my husband's doctors and nurses, and for his safety and well being.
After eight hours, the surgeon came out and told us it had gone well. My husband was about to go to ICU, and we could see him shortly. Relief flooded over me, and as I walked around the corner to the ICU room I was surprised to see Sister Marie. Even though she was sick, she was at my husband's bedside. She could not leave us in her hour of need.
You see, Sister Marie had been taking care of my husband since he was admitted to St. Patrick as a teenager for surgery. She would not rest until she knew he was okay.
We love Sister Marie so dearly, and were saddened when she left St. Patrick to move to Houston. She continues to minister, and she will remain in our family's hearts forever.
Katharine Miller, RN
CHRISTUS St. Patrick Hospital
Lake Charles, Louisiana