IRACLES COME IN all sizes, and we can see them every day if we just open our hearts and minds.
To me, a miracle can be a resident, who seems to have forgotten how to smile, actually laugh out loud at a cat rolling and tumbling and performing for her. A miracle can be a group of residents sitting in front of a cage of finches smiling, La.ughing, and talking about the birds, or hearing a resident saying to a parrot, "Talk to Mama."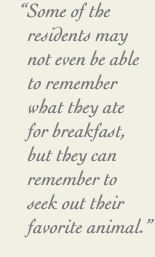 In one incident, I have seen a resident who would not get out of bed until a black and white female cat came into her room. Once the resident made friends with the cat, she would even get in her wheelchair and take it to its food bowl and then back to her room.
I've seen residents monitor a cage of lovebirds, waiting for their eggs to hatch so they could watch the young ones come out of the nest. Some of the residents may not even be able to remember what they ate for breakfast, but they can remember to seek out their favorite animal. I've also seen residents who would not talk most of the time, but they would start talking away when they see a young child. Some may think these are small miracles, but to me— a nurse who sees depression, withdrawal, and a general giving up on life – these are large miracles.
I have had the honor of witnessing these miracles, and many more, due to the Eden Alternative at CHRISTUS St. Joseph's Home. This is a wonderful program that takes away some of the feeling of being institutionalized. As a nurse, I believe in empathy. I know I would not want to feel I was spending the rest of my life in what seems like a hospital. Incorporating plants, animals, and children into their care seems to take some of that feeling away.
I am proud to work for a facility that would take on a large endeavor like this one in order to make these residents' lives a little happier. If petting a cat, looking at birds, or watching flowers bloom brings happiness into their lives, then I feel it has all been worth it.
Dale Evans, LPN
CHRISTUS St. Joseph's Home