AY AFTER DAY AND NIGHT AFTER NIGHT, she had stayed in the ICU waiting room. Her husband of 43 years remained in the closed unit near death for many, many days. At each visit, she talked and prayed over him, literally begging God to save him. And save him God did.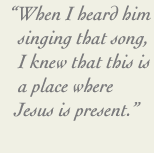 Now, two months after they had first come to our hospital, Mrs. Boudreaux knew it was time for her to go home for the first time in days. Her husband had steadily improved and was growing stronger. Now in a regular patient room, he was not only more independent but clearly needing some time alone.
Yet still, she hesitated to leave. She had come so very close to losing him. She walked slowly to the elevator, turning the last corner alongside a young technician, Kevin, who was wheeling an empty stretcher back to the cardiac cath lab. As he walked, he began to quietly whistle the old song Amazing Grace, her favorite hymn.
Tears came to her eyes, and Mrs. Boudreaux boldly asked him to sing the song to her. Without hesitation, Kevin offered a few verses for her, unaware of the deep meaning and comfort they were bringing to this very weary woman.
As she related this story to me the following day, she said, "When I heard him singing that song, I knew that this is a place where Jesus is present. I knew that my husband would be fine here last night without me. I went home and slept like a baby."
Together, we gave thanks for such a place as CHRISTUS St. Elizabeth and the many holy people who, like Kevin, fill this place with the spirit of Jesus.
Janet Davis
CHRISTUS St. Elizabeth Hospital Associate